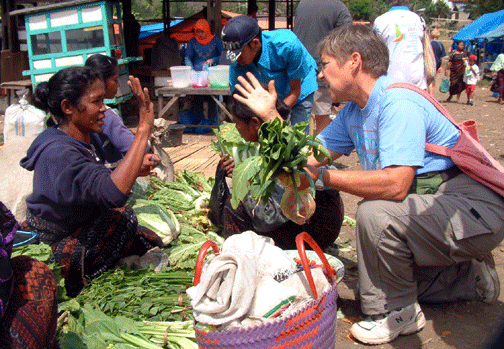 Two days ago I went to this shop to buy coconuts and well you know how steep the cost is.. one would think atleast in South it will be cheap.. it being grown here and used here a lot and all.. but no.. the smallest of the lot was at 7 rupees .. pretty steep from where I look... So well after ages I asked her for discount. I asked to give it for 5 rupees I will buy 3 of them.. she obviously refused.. she said she hardly makes 50 paise per coconut *
try karne mein kya jaata hai
? * So well I bought it at Rs 7 apiece.. and then well the lady gave me one rupees back
Thats when it struck me.. made me feel like a vile creature.. I mean if i had gone to a mall or a supermarket I wouldn't have haggled... it would be derogatory for me.. and yet those supermarkets and malls can afford to lose this money.. but for this middle class lady.. it would mean may be no chocolate for her kid... isnt it sad that we try to pinch pennies while we spend pounds?
I felt very guilty... I have consciously decided to never ever haggle...
But then you see haggling is an art and fun too.. smart hawkers know how to sky rocket the price and then haggle in a way that the smart customer pays the right price and yet the dumb one pays like stupid and well good for the hawker.... that facet is also there...
Somehow haggling reminded me of a friend of mine... Bijal... she was a spoilt brat and yet.. she did one work at home that was to buy sabji since she was 12 years old... For she had been trained by the best.. her mom.. and she was even better than her... really!
By 4:30 pm.. we used to go with her for shopping.. * She taught her the rudimentary haggling we know.. dad is not good at this stuff and all*
Ah it was fun watching her in action .. She would go through all the market then choose the stall with the freshest goods.. She would ask for half the price they are quoting.. so if the potato was like 14 rupees a kg she will ask for 7.. and they will agree to 10 rupees by that time 3-4 more aunties would come.. infact they timed their arrival with her.. so that they dont have to bargain and the shopkeeper would get good business so everyone was happy... The only glitch was she would haggle for one Kg and buy only quater kg :D :D
Anything she bought.. she has to haggle to get discount.. if there wasn't substantial discount.. well she wont buy at all..
And she would play the I- am- so - young- and -I- have- to work angle so well that so many ppl were willing to give that poor kid a break :D :D
I mean really! Haggling is so much fun! We would go to places.. roam about for hours.. ask them to open every damn thing and then haggle for impossible prices.. and then leave the shop saying its not in our "budget" Few did give in and we had like easy bargain :D :D
Damn i miss it sometimes :-)
Few shopkeepers looked forward to us.. for we always gave them entertainment whether we bought stuff or not :D :D
Even today when i have to go out and do some bargaining.. I miss Bijal : -)