Have you ever wondered how some event that seems to be of no consequence.. inane even.. so much so that we don't give those moments any time in our thoughts... And yet sometimes.. such moments change our life so irrevocably that we keep reeling ... and try as we may.. we find it hard to make peace with it... Life goes on obviously.. but the old comfortable patterns can never ever be re-mapped..
It was her 16th birthday...Suchitra was in seventh heaven.. after months of cajoling.. she finally got a brand new computer.. she doesnt have to share with dad or her siblings *yay!!!* She had invited her girlfriends home..and for hours together she gloated about it.. they had a slumber party and everyone were crashing in her room for the night...
Late in the night these young kids, feeling reckless and curious decided to login to a chat room....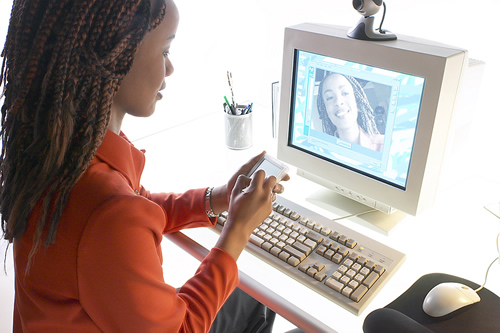 Created a new login : cute_smart_girlie
The moment they logged in.. they got just too many responses...
asl pls?
wanna chat hottie?? want cyber sex?
They freaked out and closed the chat room.. closed all the windows... Soon gigling together.. they logged again.. this time.. as invisible.... As soon as they logged in they saw an offliner from a id: smart_alec
smart_alec:
Hi :)


After some deliberation.. they decided to reply..
cute_smart_girlie : hi :)
smart_alec:
ASL please?
They didnt know what asl meant... So after much deliberation Suchitra typed
cute_smart_girlie : Whats yours?
smart_alec:
First time is it?
They didnt know what to reply.. got scared suddenly like girls generally get... so decided to log off
Few days passed and the novelty of having a computer wore out... It was a slow Sunday summer night... Suchitra couldn't sleep... She decided to login to the chat and see just for fun.. all alone...
The moment she logged in.. she saw a lot of offliner from smart_alec...
smart_alec:
Hey you there??
smart_alec:
I am from mumbai 25 year old male
smart_alec:
what about you?
smart_alec:
Okay seems you logged out... good night
Somehow for fun she replied to him.. but she lied to him....
cute_smart_girlie : Am from mumbai too.. a female obviously... and am 21 years old
smart_alec:
Oh great you are here! I was hoping you would.. been waiting for it infact...
Since that day it became their daily ritual.. they chatted the night away... and soon enough even during the day..
Soon enough the chats left the boundaries of acceptable and went far beyond...
smart_alec:
What are you wearing today?

cute_smart_girlie : Red night suit.. satin one...
smart_alec:
Must be sexy... Can I see you? give me your pic?

cute_smart_girlie : I don't have any... not even webcam
smart_alec:
alright no issues...
cute_smart_girlie : And yours?
smart_alec:
when you show urs ...
Two years had passed by.. they had exchanged love.. mushy talks.. Suchitra felt like she is very mature... and smart alec.. she made him feel young again.. for you see he wasn't 25.. but 45....
Midlife crisis and uninspiring workplace.. made him long for his college times... he just wanted to catch the glimpse of those times... and internet helped him... but somehow he had fallen for this girl online
He wanted to meet this girl just once.. god how much she filled his dreams! He started asking for her pic every other day..
smart_alec:
I find it hard to imagine you in my dreams... A man should atleast be able to dream right? I want to do such delicious things to you! If only you her
Suchitra was scared.. didnt know what to do.. he was soo exciting.. but so dangerous.. couldnt resisit it...
She googled a pic and sent it to him...
smart_alec:
You made my day dearie
Since the day she sent him the pic... his imagination worked over time.. his libodo and his mind in tandem made him go insane... he couldn't control himself... all they ever talked about was meeting.. and him kissing her.. all he thought was of getting her in his bed...
cute_smart_girlie : Its my birthday today
smart_alec
: Lets meet

Suchitra spent few agonizing week.. she didnt know what to say...

And

she wanted to meet him.....


cute_smart_girlie : I want you to know.. I have not been truthful to you... am not 21 year old...
smart_alec
: Me too! Am not 25...

cute_smart_girlie : Two pea of same pod aren't we?
smart_alec
: Oh yeah honey! We belong together

smart_alec
: So... do we meet then?

cute_smart_girlie : Am scared to... what if you dont like me?
smart_alec
: Come on honey! Scared of your teddy bear?

So they decided to meet...


Dear diary,
Tomorrow am going to meet teddy bear. We have decided to meet at gateway of India.. from there we are going to Hotel Taj! Can you imagine??? Am so excited! I dunno what to wear.. how can I look sexy for him?? All my clothes are just soo teenage girl types! I dunno what to tell to mom.. but i will figure something out.. I always do...

Am too giddy to write more.. will update you tomorrow...

Bye!


The next day , Suchitra was very excited! In the morning she checked the email...
Hey sexy!

So we finally meet today! don't know how am going to keep my hands off you... But I promize i will behave... Sorry dear i cannot meet you at GOI please come to TAJ na?
Room no 301... tell the receptionist you are meeting your uncle... and your name is Tanya okay? They are expecting you!
*hugs and kisses*
Love you,
Your teddy bear!


In the afternoon as decided, she went to the hotel room and was waiting for him.. after around 45 min the door opened.. and...
Daddy!!!!!!



Things never were same again!